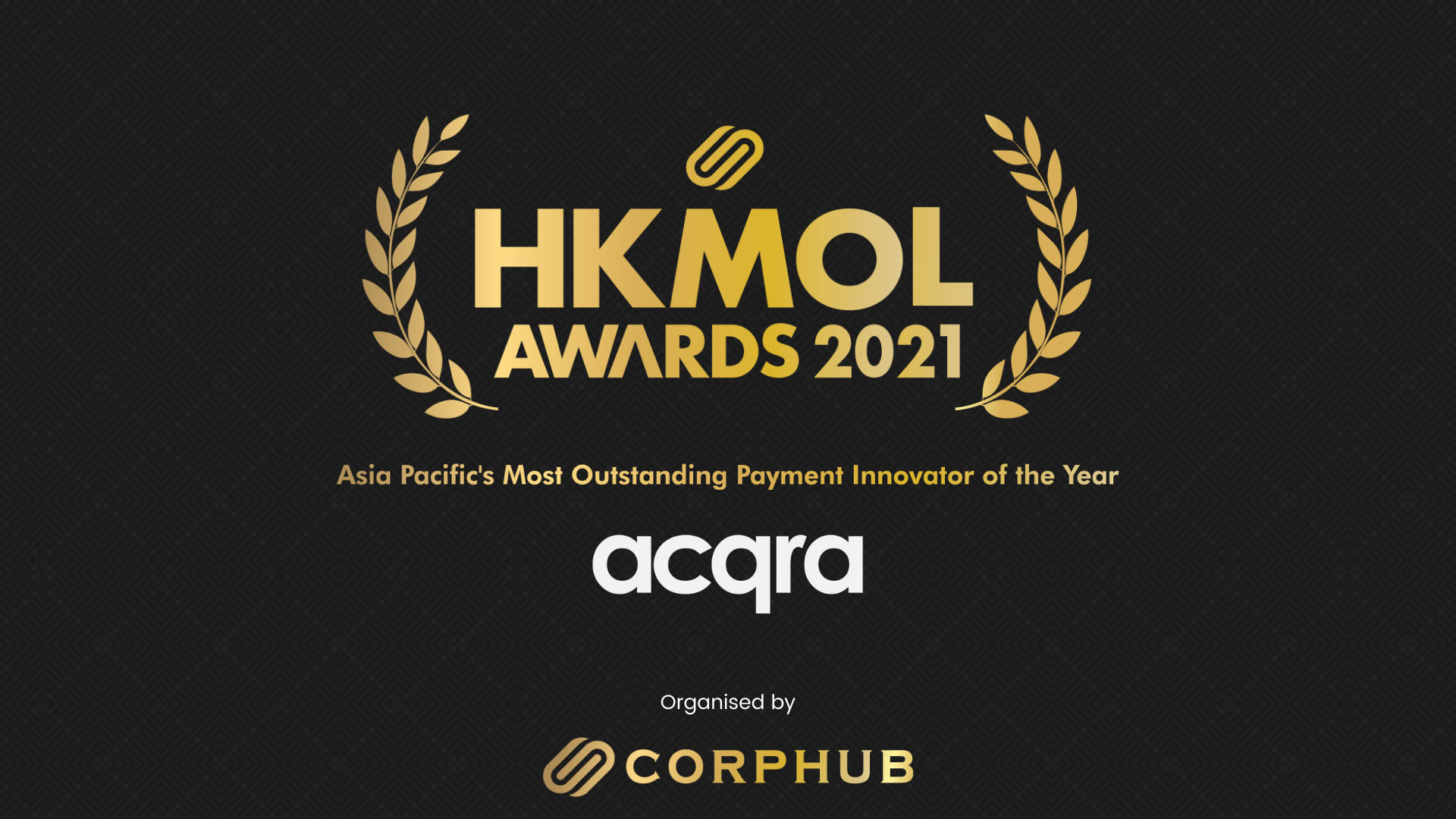 Acqra has been awarded Asia Pacific's Most Outstanding Payment Innovator of the Year in Corphub Asia's 2021 HKMOL Awards.
Acqra was selected based on outstanding performance of the following criteria:
Enterprise Management and Governance
Financial Performance and Market Competitiveness
Innovation of Products and Amenities
Corporate Social Responsibility
Acqra's self-developed Payment Compliance Gateway is a comprehensive and merchant centric payment system for e-commerce and online payments. It is designed to enable merchants to accept and offer diverse online payment methods, while managing buyer disputes and fraud with minimal technical obligations and simple integration. At the same time, merchants, banks and acquirers can be assured their online payments are secure and compliant with card scheme regulations. Payment Compliance Gateway supports Visa CyberSource, MasterCard MPGS, WeChat Pay, Alipay, JCB, UnionPay UPOP and acquirer hosts.
Acqra's Vice President of Operations Jessica Leung added, "Started in 2015, Acqra has now set up a solid integrated payment system that can address the limitations and risks (such as fraud) in online payment. Acqra's vision is to provide a single payment interface which makes transaction simple, faster and safer for merchants, banks and acquirers."
About Corphub Awards 
CORPHUB showcases enterprises that are on the rise and the environments that each corporation carefully cultivated and want to bring forth each unique aspect to the field in management. Enterprises are chosen by elite editorial team which includes professional industry leaders, various members of The Hong Kong General Chamber of Commerce and editorial professionals.
Annually, CORPHUB runs The Most Outstanding Business Award to the most recognized enterprise and as a winner, the enterprise is entitled to a trophy, and an interview will be conducted and featured on the platform. 
This prestigious award presents a wonderful opportunity to take advantage to promote companies to current and future clients. Recipients of the award receive recognition from multiple industry leaders and peers for their efforts and achievements.
About Acqra
Launched in 2015, Acqra is a FinTech company and Visa/Mastercard/UnionPay approved payment facilitator, specialising in e-commerce payment services, offering comprehensive solutions and consultancy services to banks, payment service providers and online merchants. From merchant e-KYC to facilitating payment transactions, to fraud and dispute management and mitigation, Acqra's Payment Compliance Gateway assists online merchants globally to streamline their procedures and strengthen their internal control and monitoring system to ensure minimal risk exposure, as well as to ensure regulatory compliance with card scheme standards. Acqra proudly supports Visa, Mastercard, UnionPay, JCB, HSBC PayMe, Alipay and WeChat payments.
Media Contact
Jessica Leung, VP of Operations
jessica.leung@acqra.com
+852 8197 4456