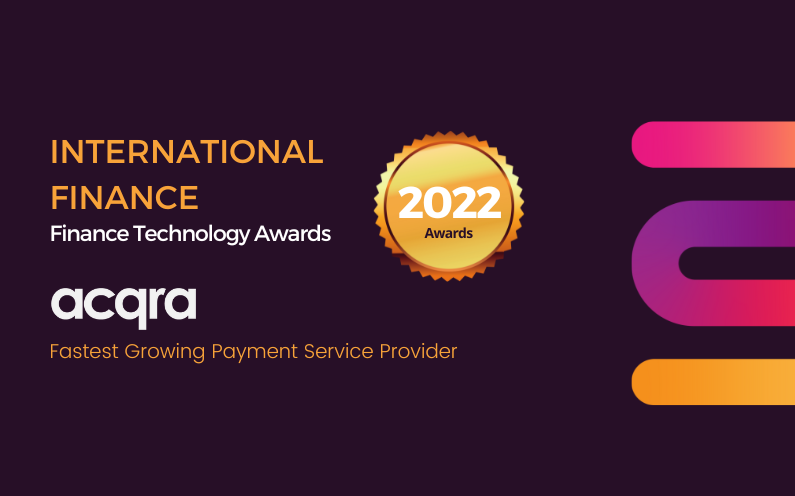 International Finance selects Acqra as Fastest Growing Payment Service Provider in the 2022 Finance Technology Awards.
(July 28, 2022 – Hong Kong)
In the International Finance 2022 Finance Technology awards, Acqra is named Fastest Growing Payment Service Provider. International Finance Awards recognises industry talent, leadership skills, industry net worth and capability on an international platform. Other awardees in the International Finance Awards include Standard Chartered Bank.
After careful consideration of nominations by a qualified research team, winners are declared on the strength of their application and past accomplishments. Fintech, for instance, is one of the most vibrant examples of how financial services has transcended barriers effortlessly, and technology has made the entire experience of transacting, trading and dealing so easy.
About International Finance
International Finance is a premium business and finance magazine published by UK's International Finance Publications Limited. With a discerning focus on emerging markets and Europe, International Finance provides news, features, analysis, commentary, and interviews from industry experts, contributors, and in-house writers. The editorial team's endeavour is to address key economic and business developments and to engage, inform, and connect business leaders, decision makers, investors, and companies in key markets with factual content every day.
About Acqra
Launched in 2015, Acqra is a FinTech company and a Visa/Mastercard/UnionPay approved payment facilitator, specialising in e-commerce payment services, offering comprehensive solutions and consultancy services to banks, payment service providers and online merchants. From merchant e-KYC to facilitating payment transactions, to fraud and dispute management and mitigation, Acqra's payment ecosystem assists online merchants globally to streamline their procedures and strengthen their internal control and monitoring system to ensure minimal risk exposure, as well as to ensure regulatory compliance with card scheme standards. Acqra proudly supports Visa, Mastercard, UnionPay, JCB, HSBC PayMe, Alipay and WeChat Pay.