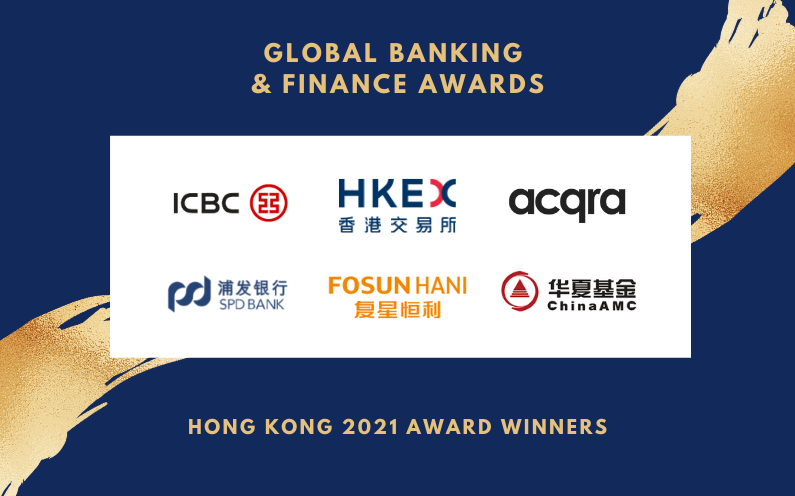 Image Source: https://www.openpr.com/news/2530441/global-banking-finance-review-hong-kong-2021-award-winners 
Acqra is awarded in UK based Global Banking and Finance Awards 2021 – Banking & Finance Technology Awards: Best Payment Solution Provider Asia Pacific
(January 26, 2022 – Hong Kong)
Acqra has won Best Payment Solution Provider Asia Pacific in the Banking and Finance Technology Awards 2021 organised by UK based Global Banking and Finance Review. Acqra is proud to announce the winning of this award, showing industry recognition for its leading payment solution services in Asia Pacific region.
The Global Banking & Finance Awards were introduced in 2011 to reflect the innovation, achievement, strategy, progressive and inspirational changes taking place within the Global Financial community. The awards were created to recognize companies of all sizes which are prominent in particular areas of expertise and excellence within the financial world.
Acqra's self-developed Payment Compliance Gateway paired with its range of risk solutions for e-commerce payment is designed to enable merchants to accept and offer diverse online payment methods, while managing buyer disputes and fraud with minimal technical obligations and simple integration. Acqra's payment solutions are comprehensive and risk-centric – intended to address the key risk components of online payment. From developing a compliant payment gateway, to fraud and chargeback case management system, and effective transaction monitoring tools, Acqra has greatly supported and helped acquirers, merchants and payment companies with their various struggles of online payment. At the same time, merchants, banks and acquirers can be assured their online payments are secure and compliant with card scheme regulations. Payment Compliance Gateway supports Visa CyberSource, MasterCard MPGS, WeChat Pay, Alipay, JCB, UnionPay UPOP and acquirer hosts.
Jessica Leung – VP of Operations stated, "Our team at Acqra is pleased to receive this award because it not only recognises the efforts of our IT team, but the availability and innovation of our online payment solutions in focusing on the risk components of online payment as well."
About Global Banking and Finance Review
Global Banking & Finance Review is a leading Online and Print Magazine based in London, UK, which incorporates a balanced view for informative and independent news within the financial community. GBAF experienced contributors provide quality and in-depth insight in a clear and concise way, providing leading players and key figures with up to date information within the finance sector. Their global reach includes readers from over 200 different countries and Fortune 500 companies, Major Banks, Financial Institutions, Central Bank, and Individuals interested in financial markets and news.
About Acqra
Launched in 2015, Acqra is a FinTech company and a Visa/Mastercard/UnionPay approved payment facilitator, specialising in e-commerce payment services, offering comprehensive solutions and consultancy services to banks, payment service providers and online merchants. From merchant e-KYC to facilitating payment transactions, to fraud and dispute management and mitigation, Acqra's payment ecosystem assists online merchants globally to streamline their procedures and strengthen their internal control and monitoring system to ensure minimal risk exposure, as well as to ensure regulatory compliance with card scheme standards. Acqra proudly supports Visa, Mastercard, UnionPay, JCB, HSBC PayMe, Alipay and WeChat Pay.