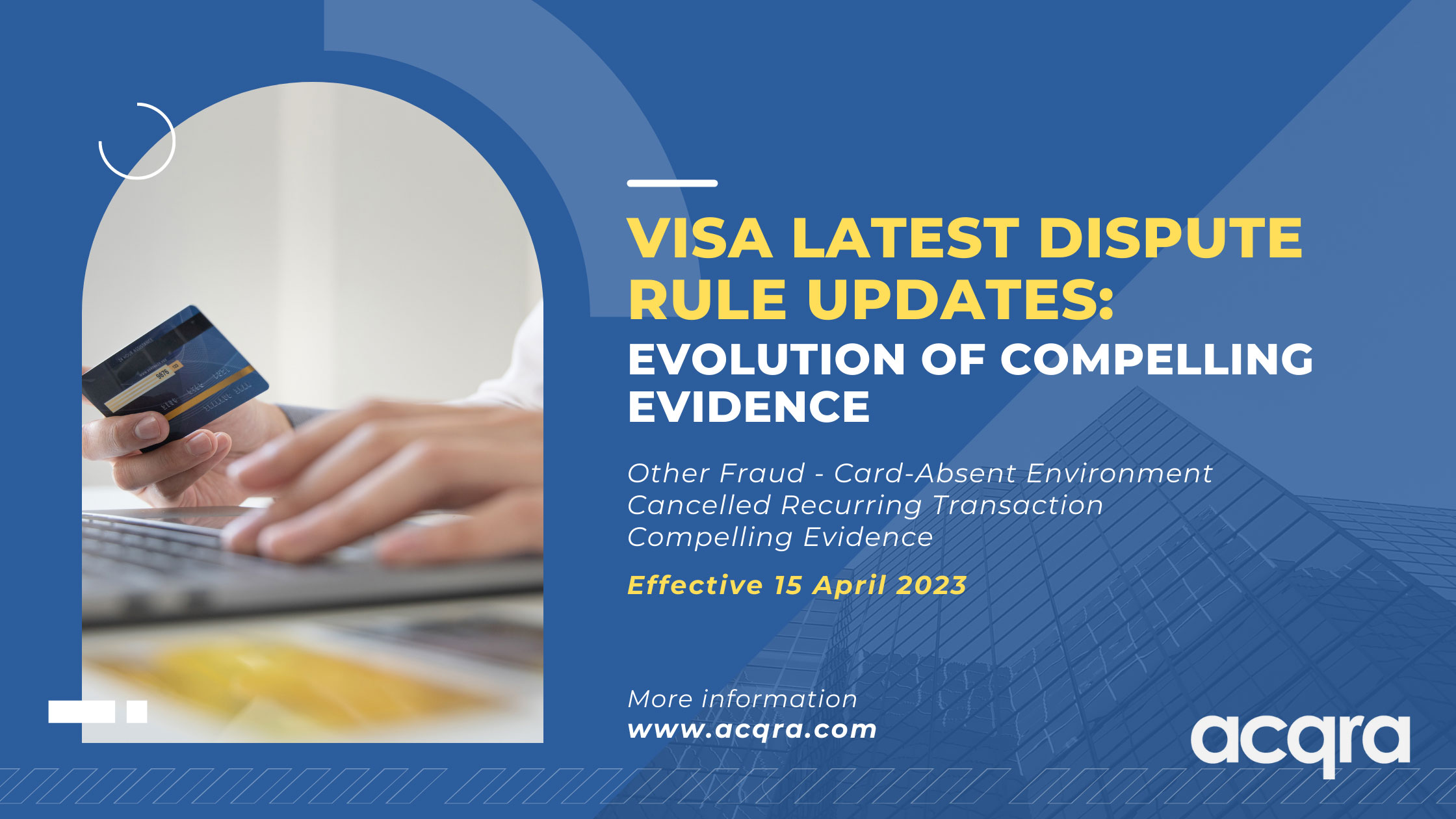 Visa's Latest Dispute Rule Updates: Evolution of Compelling Evidence
Effective from 15 April 2023, Visa will implement new standardisation of data to enhance chargeback processing. This update particularly covers card-not-present (CNP) chargebacks regarding the following areas: Dispute reason code 10.4: Other Fraud – Card-Absent Environment, Dispute reason code 13.2: Cancelled Recurring Transaction and Compelling Evidence.
Dispute Condition 10.4: Other Fraud – Card-Absent Environment
An acquirer can represent Dispute Condition 10.4 by providing evidence of all of the following:
Merchandise or services were provided
The same payment information was used in two previous transactions that the issuer did not report any fraudulent activity to Visa, and that were processed more than 120 calendar days before the dispute date

the 120 calendar days does not apply if the other undisputed transactions were original credit transactions

The device ID, device fingerprint or the IP address and one or more of the following (in both of the undisputed transactions are the same as the disputed transaction as applicable – the same data elements must match across both undisputed and the disputed transactions):

Customer account / login
Delivery address
Device ID / device fingerprint
IP address
Dispute Condition 13.2: Cancelled Recurring Transaction
To enforce the correct use of Dispute Condition 13.2: Cancelled Recurring Transaction, Visa has revised that the rule be used only when a cardholder has cancelled the payment method i.e., requested the merchant to stop charging payment credential.
It is important to note the following:
This reason code is not to be used when cardholder has cancelled the service / merchandise with merchant
Issuer is required to provide details of when and how cardholder advised merchant to stop charging the payment credential, and if available, provide details of other payment method provided to merchant
Issuer must also provide:

The date cardholder withdrew permission
Details used to contact merchant e.g., email address, telephone number or physical address
Details of other form of payment provided to merchant (if applicable)
Compelling Evidence Rules
From 15 April 2023, Visa will limit acceptable documentation / evidence for pre-arbitration representment – to only allow photographic or email evidence. If unable to obtain email or photographic evidence to demonstrate a link between the cardholder and the person receiving the merchandise or service, they will not be able to represent the case.
Examples of photographic evidence may include:

Cardholder's social media showing cardholder using merchandise or services
Snapshot of security footage taken at the merchant location showing cardholder taking possession of merchandise,
or photos taken during delivery of goods showing cardholder receiving merchandise

Examples of email evidence can include:

email correspondence from cardholder indicating merchandise was received
or asking merchant how to put items together, make it work, etc.
Furthermore, from 15 April 2023, Visa recommends merchants to use device fingerprinting and other technologies to assist in identifying and keeping record of trusted cardholder transactions and information – including operating system of device, type and version of web browser, device IP address. When combined with evidence that the cardholder has not disputed previous transactions using the same device fingerprint or data, this will decrease the likelihood of dishonest fraud disputes.
Merchant and their acquirer may supply evidence that 3 or more of the following elements had been used in a previous undisputed transaction:

Customer account / login
Delivery address
Device ID / device fingerprint
IP address
Telephone number
Source: Visa Business News