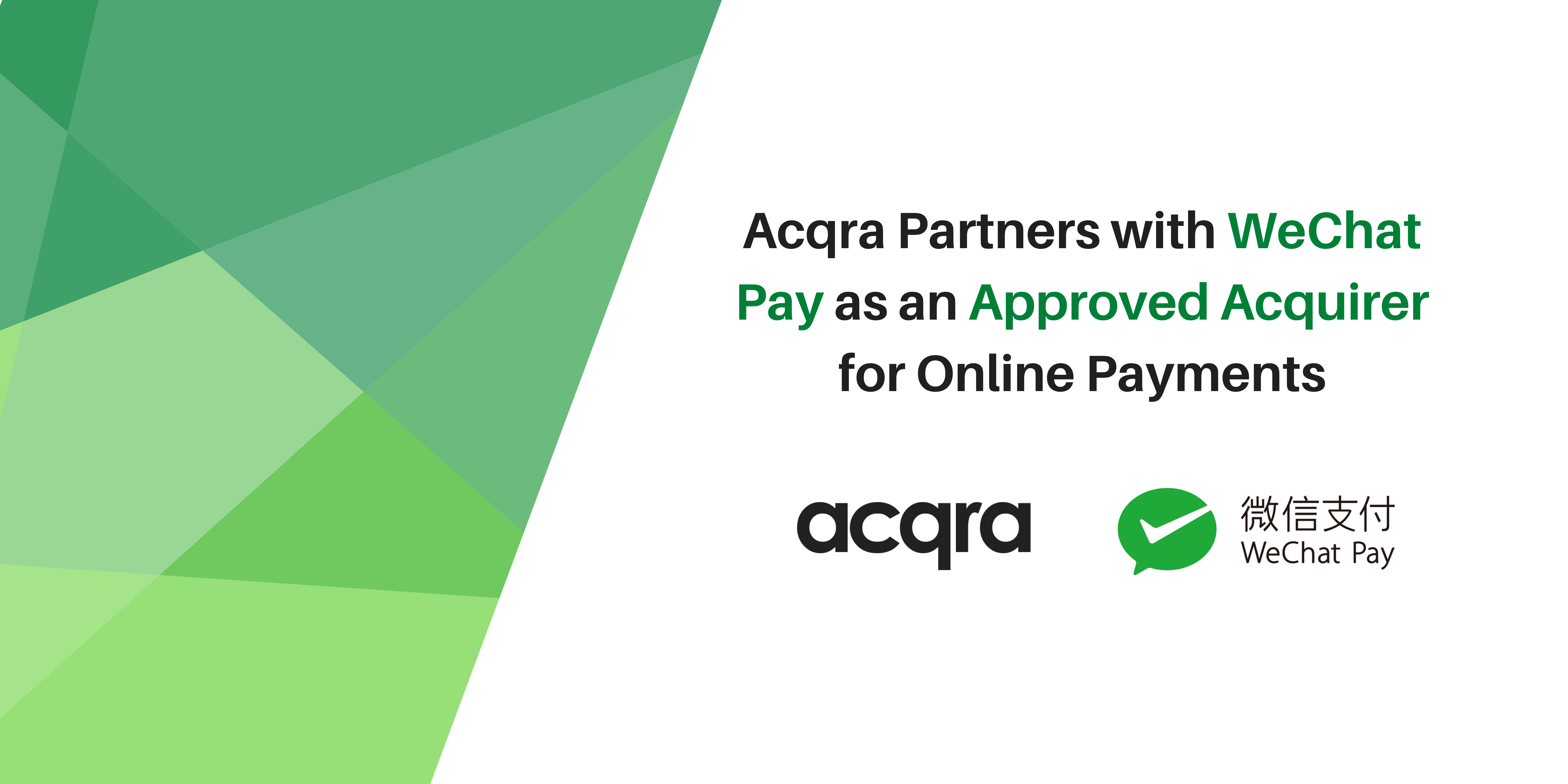 Acqra partners with WeChat Pay as an approved Acquirer for online payments
Acqra has signed an acquiring agreement with WeChat Pay to provide acquiring services and enable online merchants to process transactions with WeChat Pay users in mainland China and Hong Kong. Through Acqra's payment gateway, online merchants, and banks can provide WeChat Pay payment services as an additional online payment method.
What is WeChat Pay?
WeChat Pay is a payment feature designed to integrate into the WeChat social network app, where users can execute fast mobile payments in the touch of their smartphones. WeChat Pay offers Quick Pay, QR Code Payments, In-App Web-Based Payments, and Native In-App Payments, to deliver a comprehensive range of payment methods for various payment situations and customer needs. As the leading social network app in China, WeChat currently boasts over 1.2 billion monthly active users, and is rapidly increasing year-on-year. Combined with WeChat official accounts, WeChat Pay service explores and optimises O2O consumption experience, and provides professional internet solutions for physical business.
About Acqra
Launched in 2015, Acqra is a FinTech company and Visa/Mastercard/UnionPay approved payment facilitator, specialising in e-commerce payment services, offering comprehensive solutions and consultancy services to banks, payment service providers and online merchants. From merchant e-KYC to facilitating payment transactions, to fraud and dispute management and mitigation, Acqra's Payment Compliance Gateway assists online merchants globally to streamline their procedures and strengthen their internal control and monitoring system to ensure minimal risk exposure, as well as to ensure regulatory compliance with card scheme standards. Acqra proudly supports Visa, Mastercard, UnionPay, JCB, HSBC PayMe, Alipay and WeChat Pay payments.
About Tencent
Founded in 1998, Tencent is a multinational technology conglomerate holding company based in China. Among its various internet-related services and products, include mobile games, social network, payment systems, music and news. With over 1.08 billion monthly active user accounts in 2018, Tencent's communications and chat application WeChat, has developed to become one of the world's leading platform for connecting people, services and businesses in China and globally. Tencent offers comprehensive support to help merchants grow their business by improving customer experiences, utilizing marketing resources, and driving traffic to stores.